December 18, 2021
Organic Vegan Skin Care Made in Canada
Vegan skin care seems to be the new trend, and with the current environmental state, there's no question as to why. In this blog we'll be covering what it means to be vegan and why it may be the better choice when choosing skin care.
What is vegan?
Merriam-Webster Dictionary defines vegan as, "a strict vegetarian who consumes no food (such as meat, eggs, or dairy products) that comes from animals".
Vegan in the skin care industry means that no animal-derived ingredients were used, and no animals were harmed throughout the process of creating or testing the products. Many people who are not vegan also prefer this as well for their skincare products.
Why Vegan Skincare?
So, if no one intends to consume their skin care products, why does it matter whether they are vegan or not? People choose to be vegan or consume vegan products for a variety of reasons, but animal rights, animal welfare, and environmental sustainability are just a few of the reasons why so many people are becoming vegan – conscious these days. Your skin absorbs anything you put on it, so it only makes sense, plus we don't want any animals harmed just so we can look better.
Thousands of skin care products are tested on animals or include animal-derived substances, which should come as no surprise. Some of these components have been around for a long time, and you may not even realize they are derived from animals. Animal derived substances in food are well known, but when it comes to our skin we are frequently unaware.
All Seaflora products are Cruelty Free, Food Grade, Biodegradable, Non-toxic, Non-GMO, Sustainable and Organic. The majority of Seaflora's products are vegan, however there are 2 ingredients we use in a total of 5 products that are not vegan; beeswax, and soluble collagen. Each product is clearly labelled in the e-store, so you can make sure you are getting the product that best fits your lifestyle choices.
Seaflora products are so clean that our manufacturing facility is actually registered as a bakery. All products are free-from any harmful chemicals like Parabens, Perfumes, Sulfates/Sulfites, Phthalates, Petrol chemicals, Urea, Propylene Glycol or other Toxins. No matter your skin type or complexion, Seaflora Skincare is safe for all ages and skin concerns.
For 2 generations Seaflora has strived to connect people to the ocean for improved health and well being. Seaweed is a superior plant that offers all of the nutritional skin benefits and is a sustainable natural resource.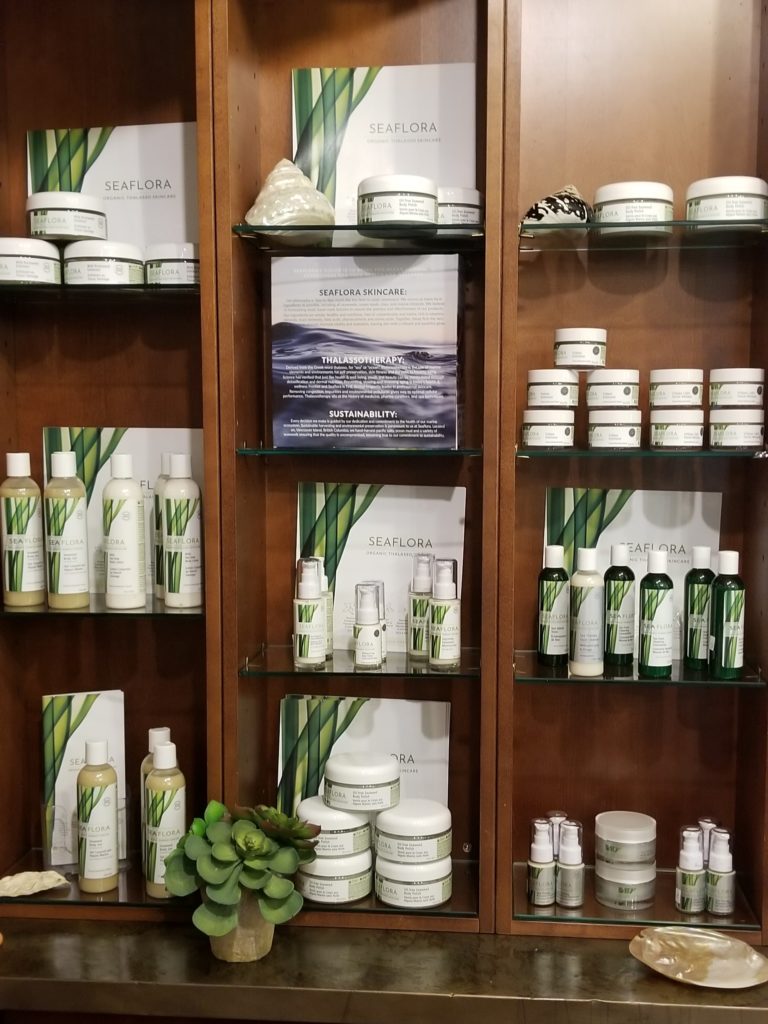 Why is vegan skincare getting so popular?
Seaflora Skincare has been around for over 20 years, producing amazing vegan products for spas, celebrities, and health – conscious folks like yourself, so we understand the benefits of clean beauty and vegan products. The mainstream beauty industry has simply ignored clean beauty and markets products as organic or healthy. Not until recently have people questioned the items they were buying and if they were clean or vegan. We are so amazed at how many people contact us and say they never thought of making sure their makeup or skincare is vegan also. You are what you put on your skin, so if your vegan, it only makes sense you put vegan ingredients on your skin also. A lot of people don't really know that the skin plays a big role on nutrient absorption as well and your skin absorbs everything else you put on it as well.
Over the last decade, veganism has undergone a massive growth in popularity. Veganism is now one of the fastest growing lifestyles on the planet. Veganism is not just a diet, but a lifestyle which removes the use and consumption of animal products in all aspects of life. The vegan lifestyle is now being followed by many in the beauty industry, with the belief that beauty has no boundaries.
Seaweed Collagen in Seaflora Skincare
Seaflora partners with local Indigenous communities, recognizing the unceeded T'Sou-ke and Pacheedaht First Nations territories where we have graciously been allowed to sustainably hand-harvest our main ingredients: seaweed, sea mud, and sea salt.
We choose seaweed as our main ingredient because it is naturally full of collagen, fatty acids, amino acids, beta-carotene, and so many holistic anti-aging properties. These days most high-quality beauty companies are including seaweed collagen into their products, we utilize the whole plant and make sure it is the main ingredient in Every Seaflora product. That's why you Sea Results in just one use!
In fact, seaweed collagen is even BETTER than the animal-derived variation of the molecule due the ability of seaweed collagen to retain considerable amounts of moisture. Imagine a Seaflora Seaweed Eye Masque that plumps and expands in size when wet. It can absorb 1,000 times its weight in water, implying that your skin can do the same with a little seaweed collagen. This is partly owing to the fact that it contains hyaluronic acid naturally. It also aids in the reduction of wrinkles, the regeneration of cells, and the absorption of substances by the skin. Permeability is a crucial consideration when determining whether a product will operate as intended. Ingredients may sound great but if they are not readily bioavailable, then what good are they doing?
The best part about seaweed collagen is that it is the same form of collagen found in your skin, which means your skin is very permeable (or open) to receiving it. That's why Seaflora products are rich in this magical sea veggie and we can guarantee that within minutes of using our products you'll see your skin plump before your eyes! Seaflora products are good for body, hair, skin, and nails, for every skin type, of any age group.
Veganism has swept the globe, gaining popularity among Health minded and environmentally conscious people alike – And unlike past trends, it's here to stay! Veganuary is a worldwide celebration of veganism. If you're thinking about making the switch to a vegan diet, this is a great place to start.