the Power of Seaweed: Your Skin's New Best Friend
Tired of endlessly searching for a solution to your skin concerns? Whether you're battling with eczema, rosacea, aging, or psoriasis, we have the answer you've been seeking. Let us introduce you to the transformative power of seaweed to reveal your best skin yet!
The best skin care is all natural, results driven, and a staple in luxury spas for more than 2 decades. At Seaflora, we're not just about solving skin concerns—we're about doing it in a way that is healthy for you and the environment. We believe that nature holds the key to healthy, glowing skin, and no ingredient exemplifies this better than seaweed.

"I've been using Seaflora for over 10 yrs. If I wander to other products my skin starts to crave the seaweeds again. Seaflora keeps my redness & rosacea calm & heals skin beautifully!" – Natalie Boot
IMAGINE YOUR SKIN BEING FLAWLESS – GLASS SKIN!
Seaweed is the unsung hero of the skincare world, a natural powerhouse teeming with vitamins, minerals, antioxidants, and amino acids. These elements work synergistically to nourish, soothe, and protect your skin. But how exactly does it work?
Anti-Aging – The fountain of youth might just be hidden in the depths of the sea. Seaweed is rich in antioxidants and essential fatty acids that fight against free radicals, the culprits behind premature aging. Its ability to stimulate collagen production helps to reduce the appearance of fine lines and wrinkles, leading to plumper, smoother, and more youthful-looking skin. Embrace the age-defying power of seaweed and let your skin radiate with health and vitality.
Eczema – Seaweed's natural anti-inflammatory properties can help to soothe the redness and itching associated with eczema. Its nutrient-rich composition aids in strengthening the skin barrier, keeping irritants out and moisture in.
Rosacea – Those battling with rosacea can benefit from seaweed's impressive ability to calm inflammation and reduce redness. Its cooling effect can provide much-needed relief to heated, uncomfortable skin.
Acne – Seaweed is a science backed solution for acne-prone skin, recommended by dermatologists across the globe. Its antibacterial properties can help to combat acne-causing bacteria, while its sebum-regulating capabilities can help to balance oil production, preventing further breakouts.
Psoriasis – The potent antioxidants in seaweed can help alleviate the symptoms of psoriasis by reducing inflammation and accelerating the skin's natural healing process.
This is why Seaflora uses Seaweed as the main ingredient in their formulations. Never dried, powdered extract, we only use wild, hand-harvested, organic kelps, red algae, and other seaweeds, making it the best natural skin care on the market!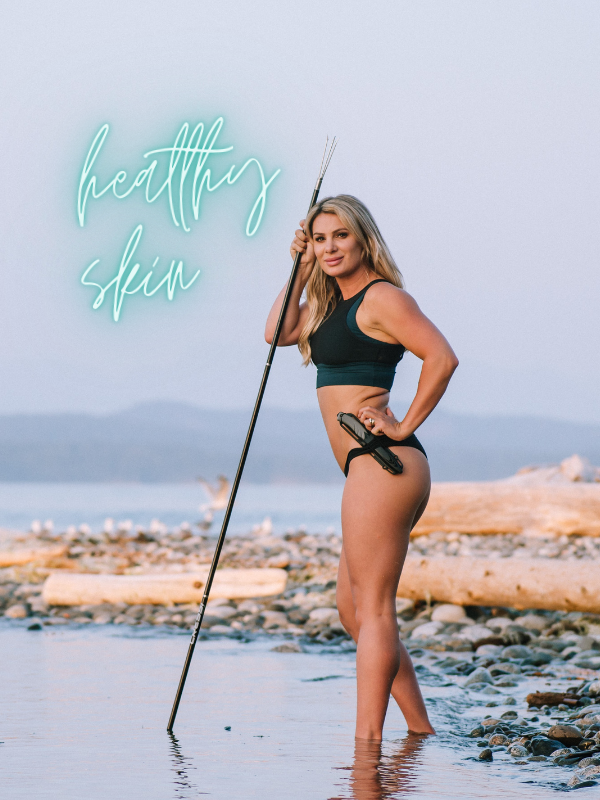 "I've used Seaflora for years and won't use anything else. The way is cleanses my skin, it feels revitalized. I've had sooo many people comment on my radiant glowing skin. Just turned 51 and people don't believe my age! Thank Seaflora for all your wonderful vegan and natural products!" – Marian R.
SEAWEED SKIN BENEFITS
Hydration: Seaweed contain natural humectants, like polysaccharides, that help to hydrate and retain moisture in the skin, which can improve the skin's elasticity and texture.
Anti-aging: Seaweed is rich in antioxidants such as vitamins A, C, and E, which protect the skin from free radical damage that can cause premature aging. Seaweed like red algae are known to promote collagen production and improve hyaluronic acid production.
Anti-inflammatory: Seaweed contains compounds such as fucoidan and polysaccharides, offer natural anti-inflammatory properties that soothe and calm irritated skin.
Brightening: Seaweed contain minerals such as zinc and magnesium as well as Vitamins B3 and C, that brighten the skin, reduce the appearance of dark spots and even out skin tone.
Exfoliation: Seaweed can be used as a gentle exfoliant that removes dead skin cells and impurities, leaving the skin looking smoother and brighter.
Detoxification: Seaweed is rich in minerals such as iodine, which can help to detoxify the skin by removing impurities and excess oil.
Protection: Seaweed extracts can help to protect the skin from environmental pollutants and UV damage, which can cause skin damage and aging.
Microbiome health: Seaweed extracts contain prebiotics that can help to nourish the skin's microbiome and promote a healthy balance of bacteria on the skin.
Natural UV Protection: The presence of various compounds in seaweed including mycosporine-like amino acids (MAAs), polysaccharides, and polyphenols offer natural protection like a physical shield from the sun. The unique compounds provide a natural defense against UV radiation and can help to protect the skin from the damaging effects of the sun.
MAAs: A type of pigment that absorbs UV radiation and acts as a natural sunscreen for the seaweed itself. These compounds have been shown to have strong UV-absorbing properties and can offer protection against both UVA and UVB radiation when topically applied to the skin.
Skin Barrier Repair: Seaweed repair damage to the skin barrier by promoting the synthesis of key components such as ceramides, which are important for maintaining the integrity of the skin barrier.
Reduce Cellulite: Seaweed is often promoted in spa and wellness as a natural remedy for cellulite due to its ability to stimulate circulation, increase lymphatic drainage, and promote the breakdown of fat cells.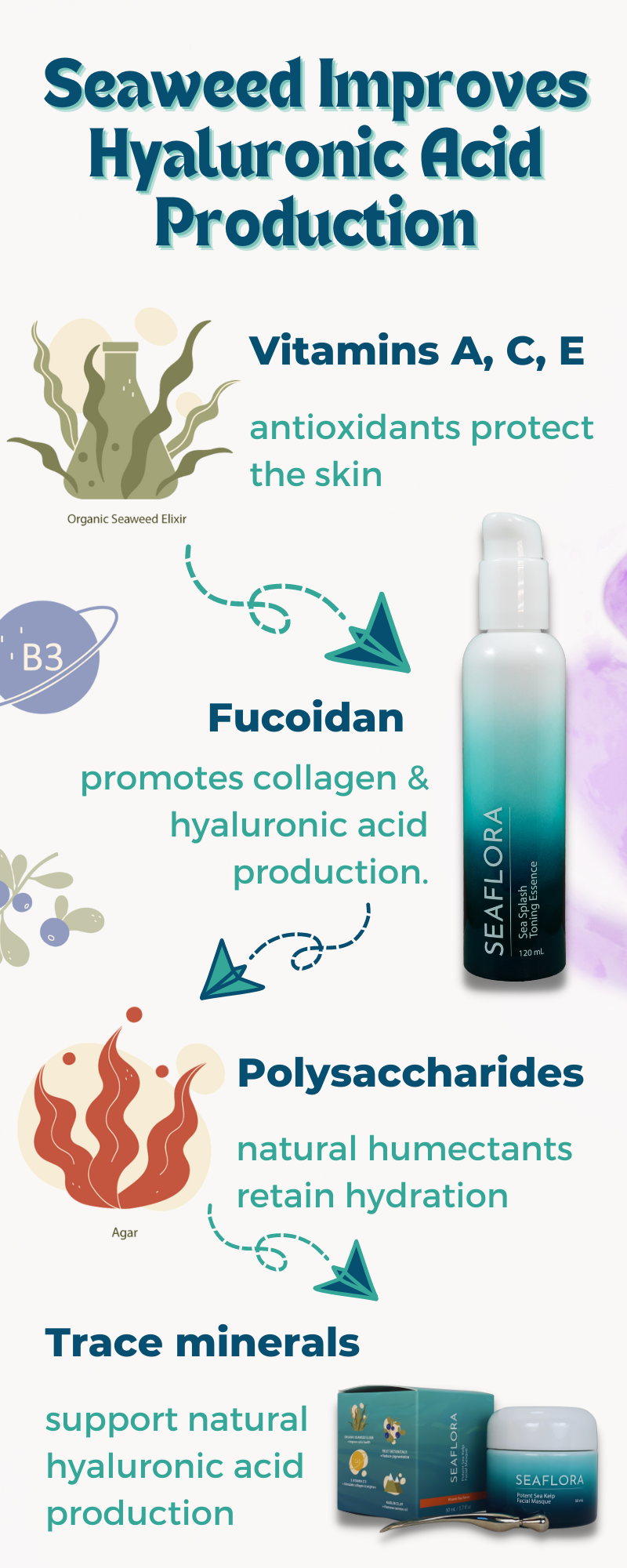 "Seaflora has consistently amazed me with their willingness to collaborate and provide support. They are such a pleasure to work with on top of producing totally clean, high quality thalassotherapy line for our guests to enjoy!"
– Anita V., Sales and Marketing Manager, Fairmont Empress
CLEANSING
The first step in your skin care routine is the cornerstone. Cleansing plays a key role in the results the rest of your skin care routine will achieve. Choosing a gentle, low lather cleanser is the best way to protect your natural oils while removing impurities, leaving your skin supple and fresh.
The anti-inflammatory benefits of seaweed make it uniquely effective for soothing the symptoms of eczema, psoriasis, and rosacea. Seaflora is clean beauty skin care for sensitive skin.
SEAWEED VS LAND PLANTS
The richest mineral source boasting 10 – 100X higher concentrations than any land plant.
Higher levels of vitamins A1, B1, B2, B3, B6, B12, C, D, E, K and folic acid.
Offers all essential amino acids offering complete proteins that build collagen.
Unique bioactive compounds of laminarin, alginate and fucoidan not present in fruits or vegetables.
Sustainable skincare using a highly sustainable natural resource instead of water.
NATURAL COLLAGEN
Seaweed, especially red algae, have been used for centuries as a natural source of collagen and essential fatty acids.
Rich in amino acids, especially the 3 that make up 50% of collagen proteins, seaweed skincare is a great way to protect skin firmness.
Minerals like copper and zinc, help minimize wrinkles. Polysaccharides rich in B Vitamins fuel skin repair and keep skin radiant and glowing!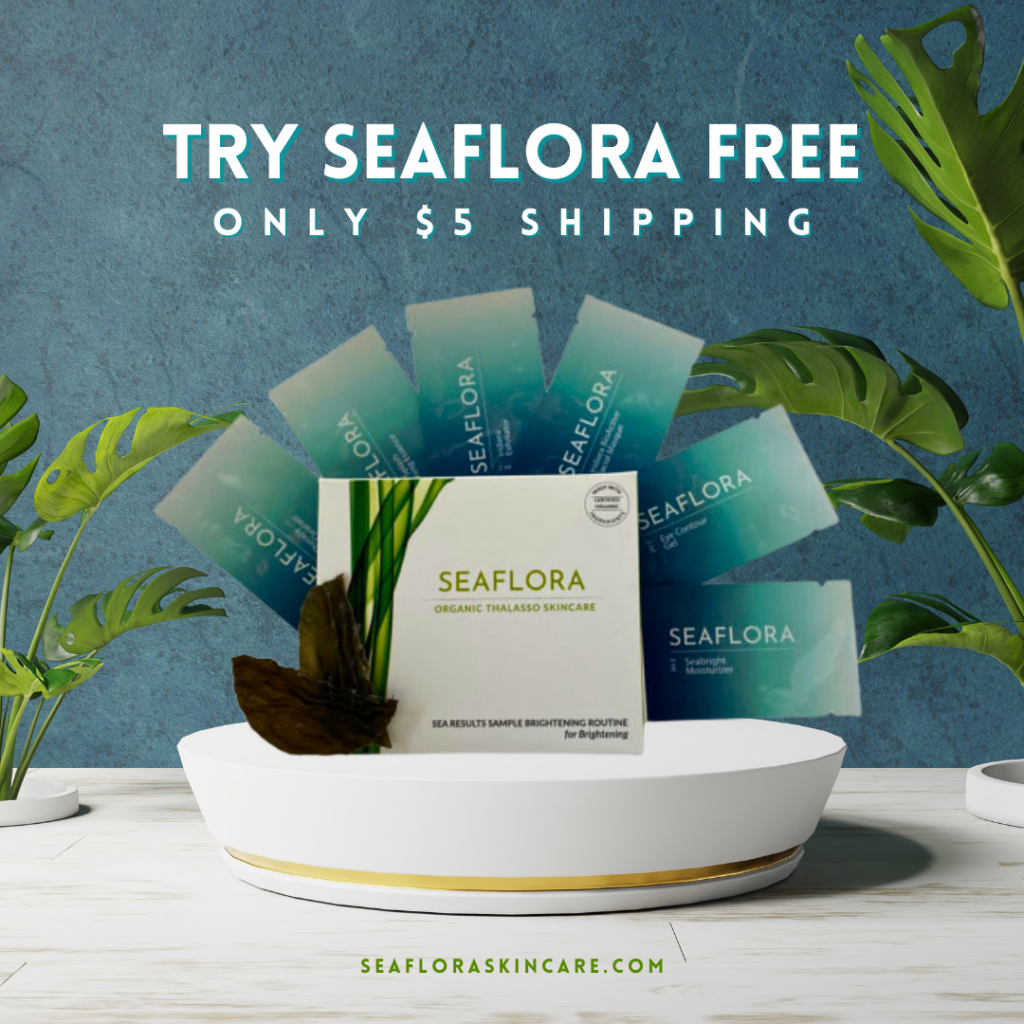 Seaweed is a super star ingredient for any skin care needs. Skincare for rosacea, skin care for aging skin, seaweed provides a natural solution. Sea REAL results in one full facial routine.
Dive into the world of seaweed skincare today and discover the difference nature can make. Explore 7 Seaflora products in our free skin care sampler and find the perfect seaweed solution for your skin concerns. Your skin will thank you for it!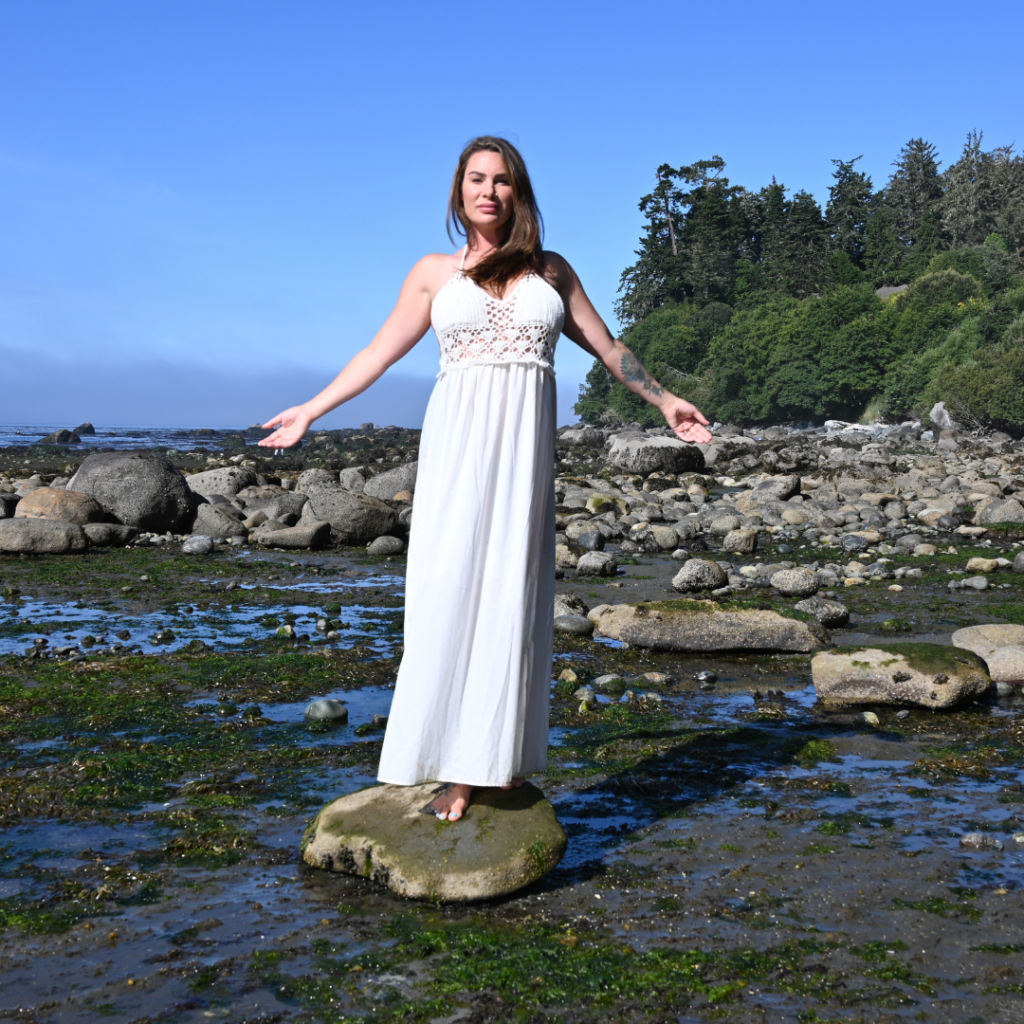 We're not just another skincare company. Seaflora is a 2nd generation family-owned business that believes in transparency, sustainability, and results. We hand-harvest with respect for our environment, ensuring that our operations leave no trace on our cherished coastlines.
This is skincare you can feel good about—both on your skin and in your heart. A portion of each purchase is donated to AFA, GSA and SSES.
Seaflora Skincare vs the competition
At Seaflora, we are passionate about harnessing the power of the ocean to create skincare products that are truly nourishing and effective. That's why our main ingredient is always seaweed – wild, raw, organic, and sustainably harvested from the clean cold Pacific off Vancouver Island. Cruelty free, vegan options, and eco friendly, we are proud to be a climate positive Canadian company.
Unlike most, if not all of our competitors, who use water or oil as their main ingredient because they are profit-driven, we are committed to using only the best natural ingredients that offer real benefits for the skin. Seaweed is packed with vitamins, minerals, and antioxidants that help to hydrate, soothe, and rejuvenate the skin, and we believe that using it in its purest, most natural form is the key to unlocking its full potential.
We take great care in sourcing our seaweed from the cleanest, most sustainable sources off the coast of Vancouver Island. Our seaweed is never bleached or powdered – it is simply hand-harvested and carefully processed to preserve its natural nutrients and properties.
Some of our competitors may use seaweed as a marketing ingredient, but at Seaflora, it is at the heart of everything we do. We believe that by using the purest, most potent seaweed in our products, we can offer our customers skincare that is truly transformative – promoting healthy, radiant, and youthful-looking skin, without compromising on quality or ethics.
Seaflora's seaweed-based products, being food-grade, organic, and hypoallergenic, are designed to be gentle and nourishing for the skin. These products are certainly less likely to cause skin irritation compared to products that contain harsh chemicals, toxins, alcohol, or petrochemicals.
Choose Seaflora for skincare that is truly natural, nourishing, and effective, and experience the power of the ocean in every drop.