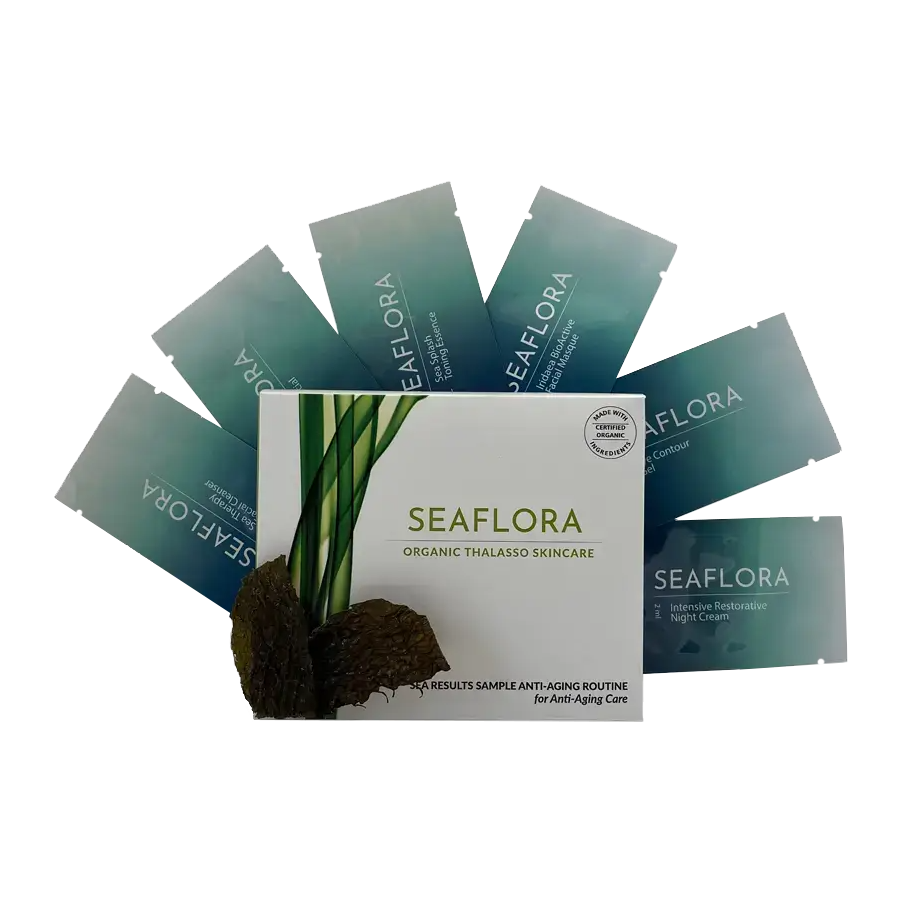 Sea Results Sample Routine
Tired of searching for effective skincare?
Your free sample routine awaits – claim it today!
$5 shipping nationwide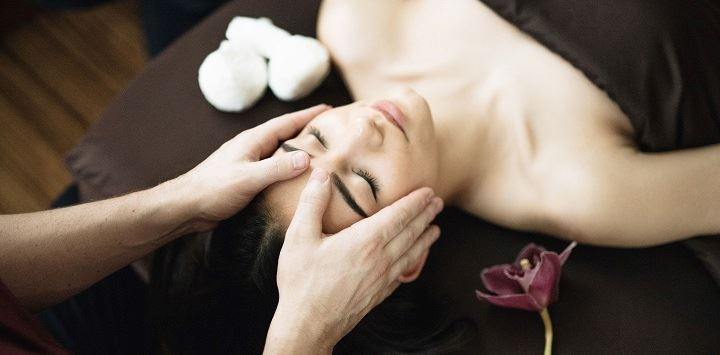 Try Our Free Sample Routine – Achieve Glass Skin Today!
Are you dreaming of achieving that elusive 'glass skin'? Or perhaps you're on a journey to learn how to get rid of rosacea, manage psoriasis, or find the best eczema cream? Whatever your skincare concerns may be, SeaFlora Skincare is here to help.
We're excited to offer you a FREE sample routine, designed to deliver optimal results for your skin. From hydrating and nourishing formulas to solutions specifically crafted for common skin concerns such as rosacea, psoriasis, and eczema – your perfect routine awaits!
Experience the Seaflora difference. Claim your free sample routine for just $5 shipping nationwide!
Dry Skin
Hydration: Seaweeds, such as red and brown, are rich in humectants that draw in moisture from the environment, helping to hydrate and moisturize dry skin.
Soothing effect: Seaweed has cooling and soothing effects that can provide immediate relief for itchy, inflamed skin conditions such as eczema and psoriasis.
Gentle exfoliation: The natural acids found in seaweed can help to gently remove dead skin cells, which can improve skin texture and alleviate dry skin conditions.
Brightening
Boosts collagen production: Seaweed contains components like fucoidan that may stimulate collagen production, which is essential for maintaining skin's elasticity and combating dryness.
Using unique compounds in seaweed and other powerful natural ingredients to target hyperpigmentation and skin redness.
Anti-inflammatory properties: The anti-inflammatory properties in seaweed can help reduce redness and inflammation associated with rosacea, psoriasis, and eczema.
Anti-Aging
Detoxifying: Seaweed is known for its detoxifying effects, helping to draw out impurities and toxins from the skin, which can contribute to inflammation and exacerbate conditions like rosacea, eczema, and psoriasis.
Nutrient-rich: Seaweed is packed with vitamins, minerals, amino acids, and antioxidants, providing nourishment to the skin cells and promoting their health and function.
Balancing skin's natural oils: Despite its hydrating properties, seaweed can also help regulate oil production, which can be beneficial for conditions like rosacea that can sometimes cause oily skin.
What is Glass Skin?
Glass skin is a term that originated from South Korea, describing a complexion that's flawless, smooth, and glowing – just like a pane of glass. Want to discover how you can achieve this coveted look? Our free sample routine can help you get there. With products infused with nature's best ingredients, we aim to provide the hydration and nourishment your skin needs to radiate that 'glass skin' glow.
Why Seaweed Is The Main Ingredient
Seaweed will strengthen the skin's natural barrier, locking in moisture, and protecting against environmental irritants – a key factor in managing eczema and psoriasis.
Microbiome friendly, prebiotic rich, full of antioxidants, as well as more vitamins and minerals than any land plant. What can't seaweed do?!
Dry Skin Sea Results Sample Routine
Sea healthy radiant skin in no time! Seaweed is the main ingredient of every Seaflora product because of it's ability to nourish and heal. Rich in Vitamins, Minerals and Antioxidants that heal and protect the skin revealing a glowing complexion.
We understand the struggle to find the best eczema cream that not only soothes your skin but also prevents future flare-ups. Our free sample routine includes products formulated to provide relief from eczema's itching and inflammation, all while keeping your skin moisturized and healthy.
Psoriasis can be a challenging condition to manage. But with the right skincare routine, it can be easier to keep under control. Our free sample routine features products designed to help soothe and manage psoriasis symptoms, helping you to achieve more comfortable, healthier-looking skin.
Brightening Sea Results Sample Routine
Wondering how to get rid of rosacea? You're not alone. Rosacea is a common skin condition that causes redness and visible blood vessels in your face. But don't despair – our free sample routine includes products aimed at soothing and reducing the appearance of rosacea. Let us help you regain your confidence with our gentle yet effective skincare solutions.
Enjoy a spa grade seaweed facial at home with this sample kit that targets and prevents hyperpigmentation and rosacea.
After four years of research with the National Research Council of Canada, we developed some magic in a bottle. Seabright is our first product to contain our top secret Organic Seaweed Elixir™ – Seabright Kelp Complex™! It safely brightens hyperpigmentation more effectively and at lower concentrations than other natural skin brightening ingredients on the market!
Anti-Aging Sea Results Sample Routine
Have you ever been curious how to keep your skin healthy and firm, but weren't sure where to start? Well, we have taken the guess work out for you with our Sea Therapy Anti-aging skin care routine.
Our powerful, antioxidant & protein rich red seaweed skincare products will work to prevent and correct the signs of aging. Fine lines, wrinkles, loss of elasticity and hyperpigmentation are defenceless against our Sea Therapy Cocktail. It contains Hyaluronic Acid, Malic Acid and Coenzyme Q10 for a plumped and rejuvenated appearance. Aging gracefully without synthetics has never been easier with our holistic nontoxic anti-aging regimen.