May 7, 2023
Learn to Apply Your Skincare Products in the Right Order with a Free 7 Step Skin Care Routine!
Starting your own skincare routine can be overwhelming with the abundance of options available. With so many Tik Tok skincare tips and endless product reviews, it can be challenging to know where to start. Shopping for skincare products can also be time-consuming and confusing, especially if you have specific preferences, allergies or ingredient concerns. Despite the challenges, it is important to prioritize your skin's health. With the right guidance and products, you can achieve optimally healthy, glass skin.
The Secret to Great Skin? Applying Your Skincare Products in the Right Order
Seaflora Skincare offers a FREE skin care sampler with 7-curated products for the type of high-end facial you would get at a resort hotel spa. As The Top Spa Partner of Canada , Seaflora certainly understand what is involved in providing a results based facial. When a skin care company supplies products to the spa industry, the products must deliver visible results in just one use – or else!
Here are the steps in the Seaflora Sample Routine for your skin type:
Cleanse: Each routine comes with a gentle cleanser that removes impurities without disturbing your skin's natural oils.
Exfoliate: Sea mud and seaweed slough off dead skin cells to reveal a smoother, brighter complexion. After this step in the routine you may want to perform extractions if needed.
Masque: Customized for your skin type and concerns apply the masque and embrace skin fitness, giving your skin a good work out.
Sea Splash Toning Essence: Hydrate, Balance and Tone with Seaflora's award winning toner that feels like a serum and a toner had a baby.
Serum and Eye Care: Apply seaweed serum around eyes, over face, down the neck and décolletage to hydrate and nourish your skin.
Seaweed Eye Masque: Follow the directions to re-hydrate the masques. Put them under your eyes for 20 minutes to brighten, nourish and reduce puffiness.
Moisturize: The toner and serum hydrated, the final step is to seal it all in with a moisturizer for your skin type and goals.
Safe for all skin types, even hypersensitive. No matter your skin type, after this routine you will be glowing, so go show it off!
Before sun exposure, take care of your skin and apply sunscreen. Although often debated by fools, darker skin tones absolutely need to wear sunscreen to keep their skin healthy. Unprotected, the sun's harmful rays can lead to sun damaged skin, which can lead to skin cancer.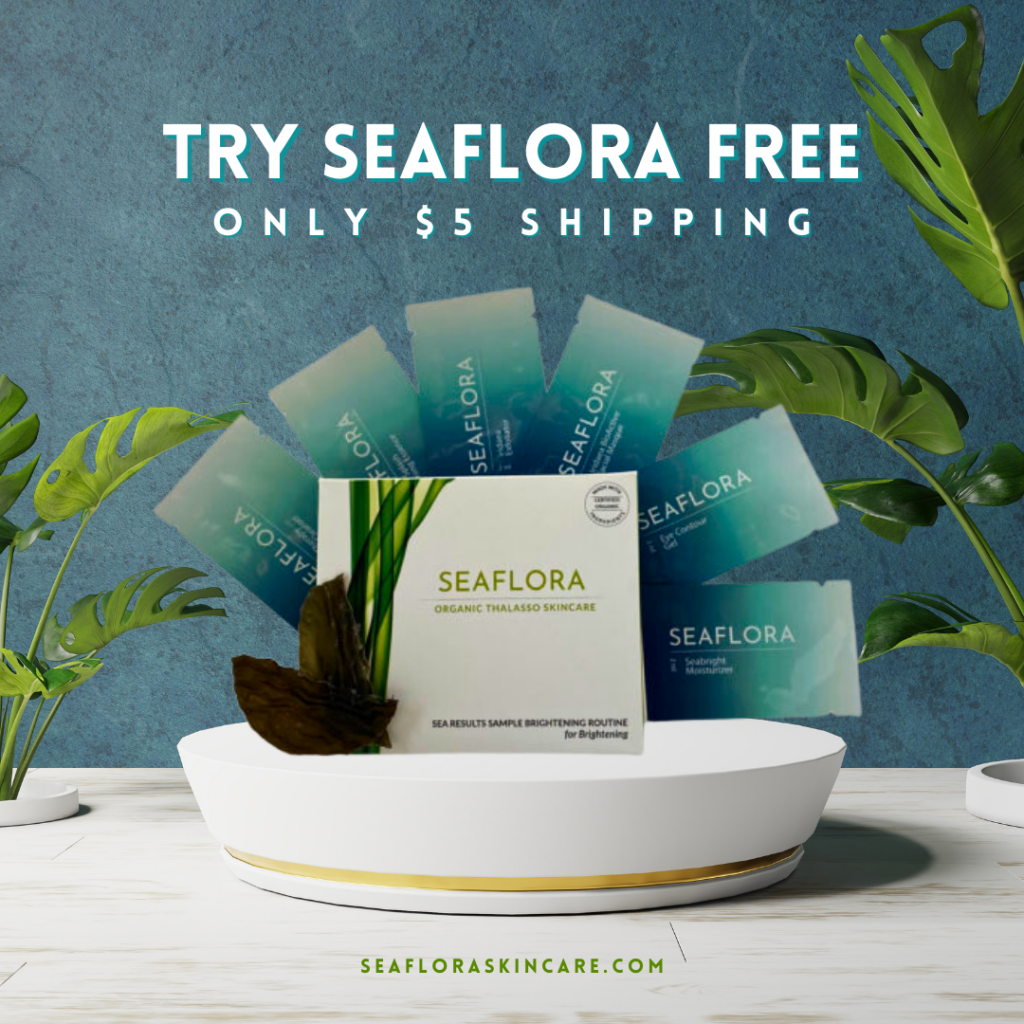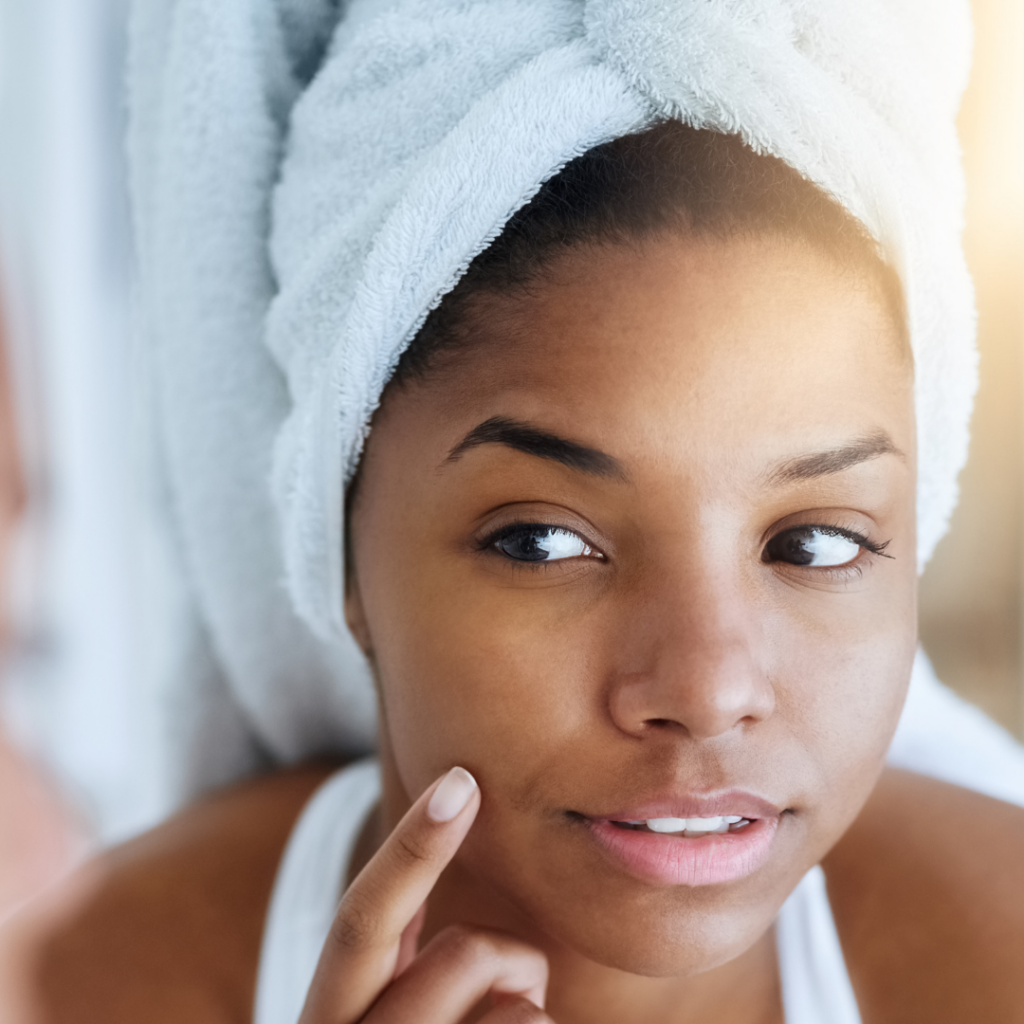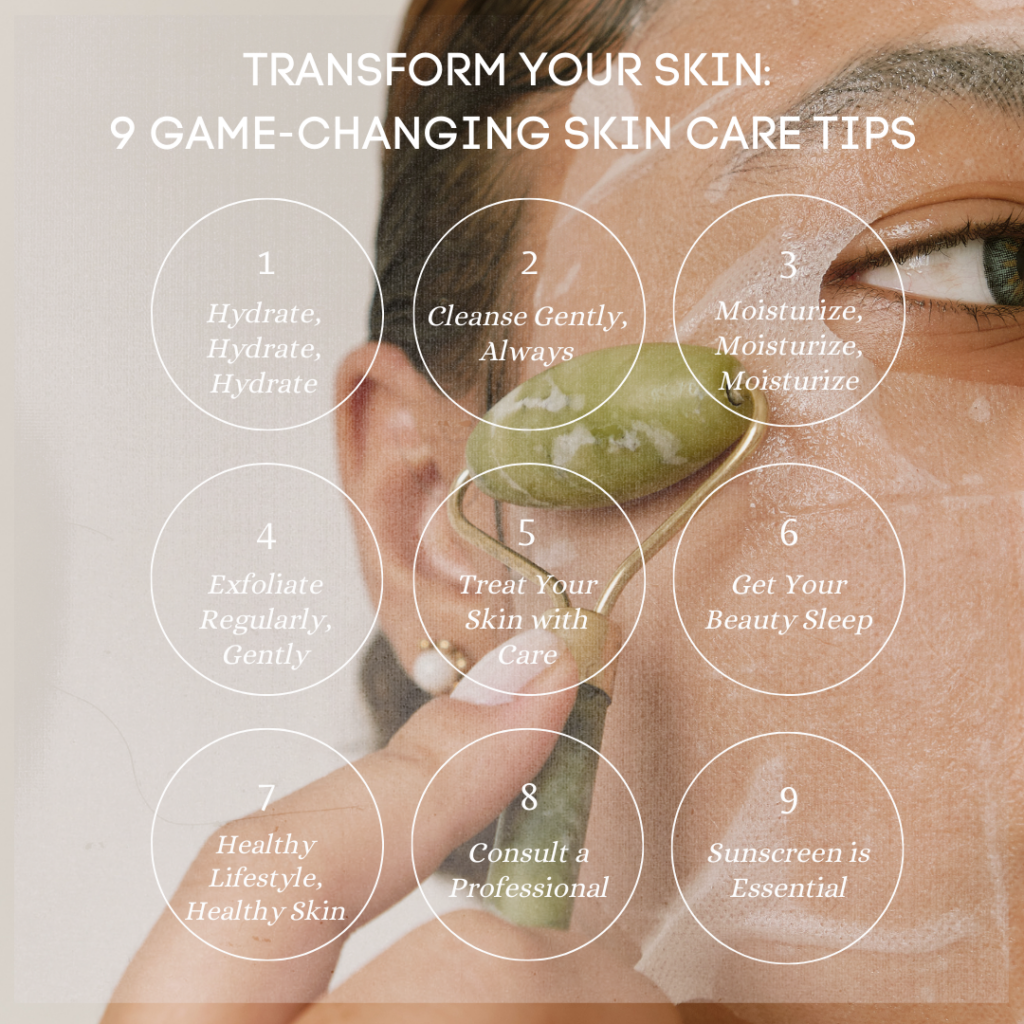 3 Main Steps of a Daily Skin Care Routine
There are literally 3 steps you should perform everyday in your skin care routine:
Cleanse: It's more important to wash your face at night, than in the morning. Throughout the day, our skin is exposed to various environmental stressors, which accumulate on the skin's surface and cause irritation, breakouts, and other skin problems.
Treat: Apply serum, spot treatments, or other targeted skincare products to address specific concerns like dark spots, skin health, or acne prone skin. This step can help to improve the overall appearance and prevent skin diseases.
Moisturize: Apply a moisturizer to help hydrate your skin and prevent dryness. This step can also help to protect your skin from environmental stressors and premature aging.
Preventing common skincare concerns like acne, dryness, and premature aging is best achieved through a healthy diet. If a simple routine is all you have time for it's important to choose high-quality skincare products and be consistent with your routine to achieve the best results.
5 Step Morning Skin Care Routine
Cleanse: Use a gentle cleanser to remove dirt, oil, and makeup from while relieving dryness. A cleanser with alpha hydroxy acids helps to prevent acne, while also preparing you for the next steps in your routine.
Tone: Apply an alcohol-free toner to help balance your skin's pH and remove any remaining impurities. If you use Sea Splash Toning Essence this step will also deeply hydrate, brighten, and minimize pores.
Treat: Apply a hydrating serum, spot treatments, or Vitamin C serum to address specific concerns like dark spots, fine lines, or acne. This step can help to improve the overall appearance and health of your skin.
Moisturize: Healthy oils like coconut oil, and olive oil, seal in hydration to prevent dull skin and dryness.
Protect: Apply sunscreen to protect your skin from the damaging effects of UV rays. This step can help to prevent skin cancer, premature aging, and other sun damage.
What are The 7 Steps of Skin Care?
Cosmopolitan's 7-step skincare routine typically includes the following steps:
Cleanse: Everyday cleansing is essential. Gently wash your face with hot water and gently pat dry.
Double Cleanse: Use an oil-based cleanser followed by a water-based cleanser to remove dirt, makeup and sunscreen.
Tone: Apply a splash of hydration and balance your skin's pH.
Exfoliate: Whether you are into dry facial brush exfoliation or enzyme exfoliators, be sure to exfoliate 1-2 times a week to reveal healthier skin.
Serum: A targeted serum to address specific concerns, improve the overall appearance and achieve healthy skin.
Eye Cream: A hydrating eye cream to prevent, and plump out wrinkles and fine lines.
Moisturize: A moisturizer to seal in hydration, plump with hyaluronic acid and keep your skin healthy.
How to Wash Your Face Like a Pro
Using a combination of oil-based and water-based cleansers, along with regular exfoliation and hydration, helps to ensure a deep cleanse and remove any impurities from the skin's surface. Oily skin, acne causing bacteria, and other skin problems, are washed away for a more youthful and radiant appearance. Here is the perfect skincare routine for deep cleansing when needed:
Begin by washing your hands to ensure that they are clean.
Wet your face with lukewarm water to help open up your pores and make it easier to remove dirt, oil, and makeup.
Apply a dime-sized amount of your favourite oil-based cleanser to your fingertips and massage it gently into your skin for 30-60 seconds. This helps to dissolve and remove dirt, oil, and makeup from your skin.
Rinse your face with lukewarm water and gently pat dry with a clean towel.
Apply a small amount of water-based cleanser to your fingertips and gently massage it into your skin for another 30-60 seconds. This helps to remove any remaining impurities and give your skin a deeper clean.
Rinse your face with lukewarm water and gently pat dry with a clean towel.
Exfoliate your skin 1-2 times a week using a gentle scrub or chemical exfoliant. This helps to remove dead skin cells and reveal a smoother, brighter complexion.
Follow up with a hydrating facial mist or toner to help balance your skin's pH and soothe any irritation.
Seaflora's Soothing Cleansers
Seaflora's cleansers are a perfect start to any skincare routine, but especially are beneficial for psoriasis sufferers due to their natural ingredients, soothing properties, gentle formulation, and science-backed research.
Natural Ingredients: Made from a combination of natural ingredients sourced from the nutrient-rich seaweed found off the coast of British Columbia, Canada. Seaweed contains a variety of vitamins, minerals, and antioxidants that help to nourish and protect, providing gentle cleansing and exfoliation.
Soothing Properties: Seaflora's cleansers contain a variety of soothing and anti-inflammatory ingredients, such as aloe vera, chamomile, and lavender, which can help to reduce redness, itching, and irritation associated with eczema and psoriasis.
Gentle Formulation: Seaflora's cleansers are formulated to be gentle and non-stripping, which is especially important for sensitive and irritated skin. Designed to remove dirt, oil, and makeup without disrupting the skin's natural oils or causing further irritation.
Scientifically Backed: Seaflora formulations are developed using science-backed research. The company uses sustainable and environmentally friendly practices to harvest and process the seaweed, ensuring that their products are both effective and ethical.
Treating With Serums
Serums are designed to deliver potent active ingredients to the skin in a concentrated form, providing targeted treatment for specific concerns. They are typically lightweight, fast-absorbing, and formulated to penetrate deep into the skin's layers to deliver powerful results.
Vitamin C serum, for example, is a popular skincare ingredient that is known for its antioxidant properties, brightening effects, and anti-aging benefits. Taking good care of your skin can reduce the appearance of skin age and that is the goal!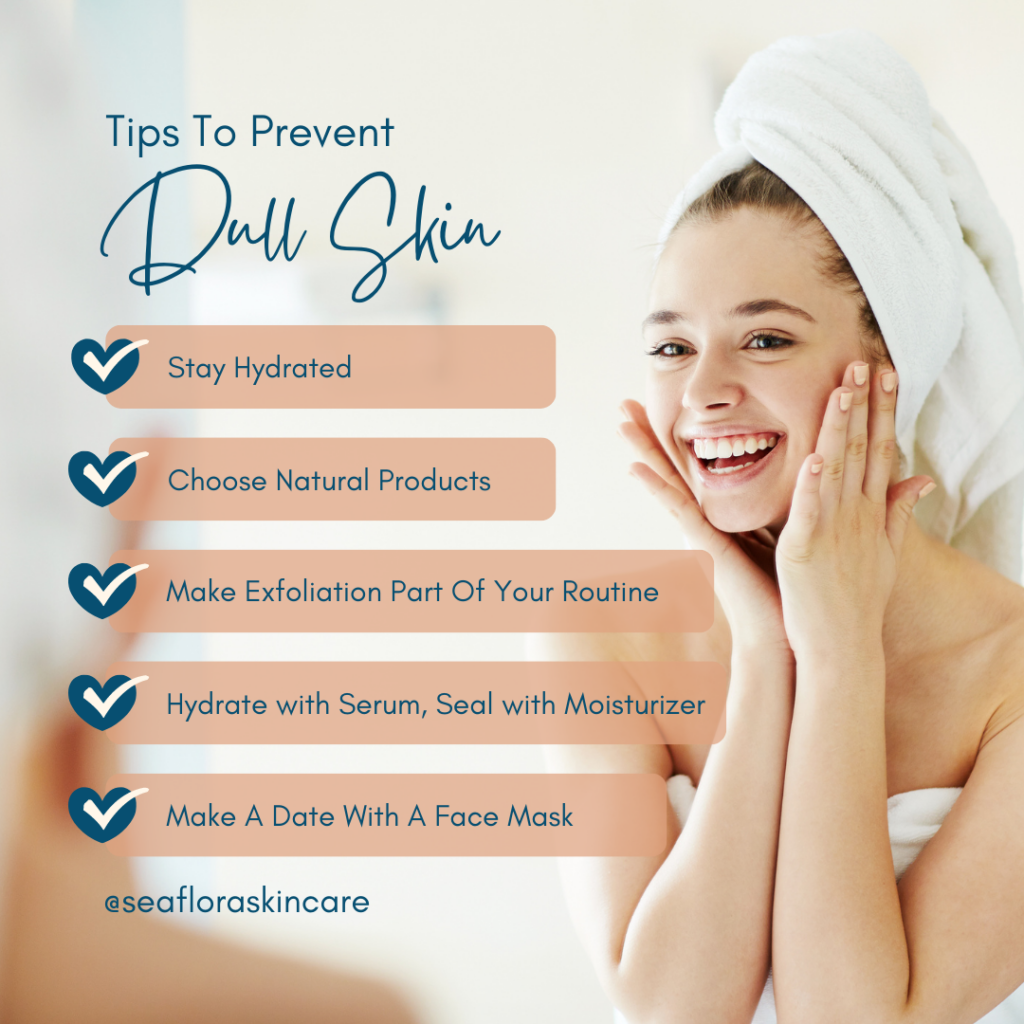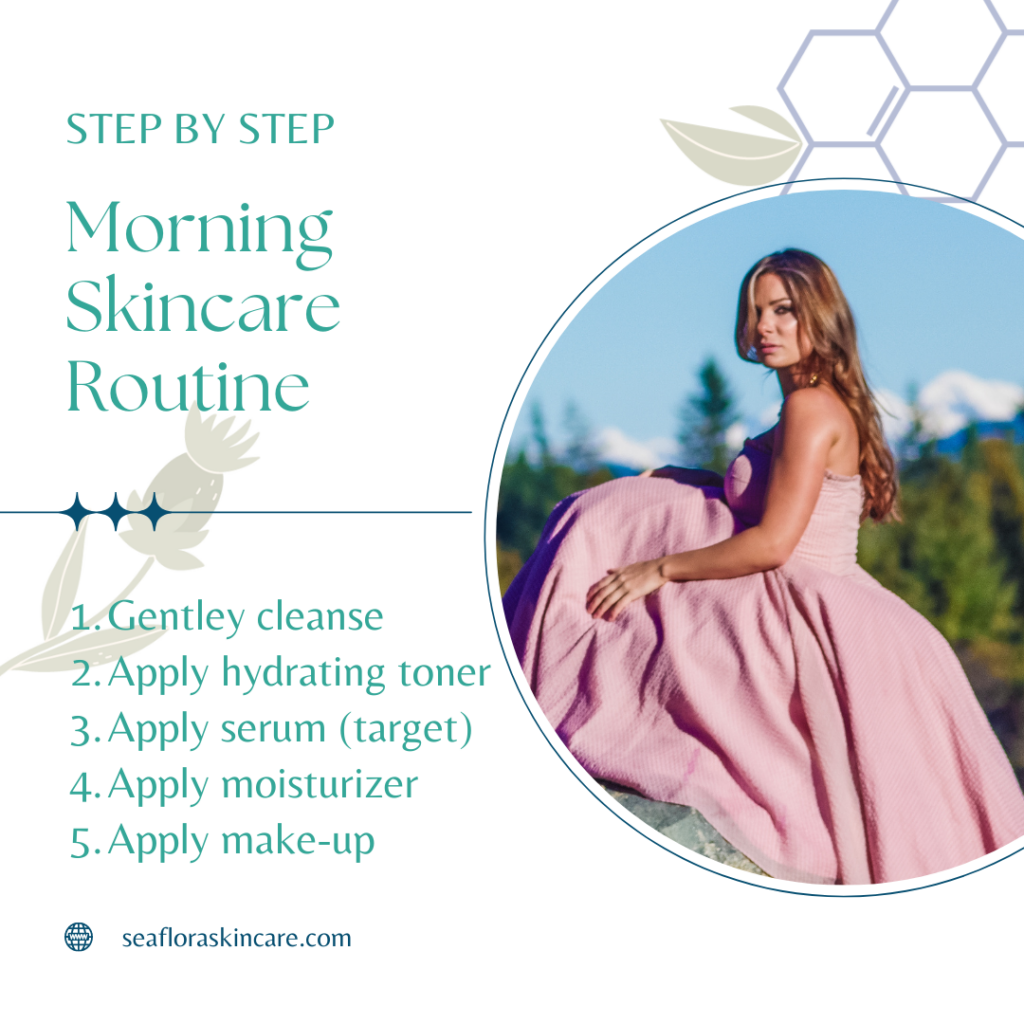 Eye Creams Explained
Eye creams are specifically formulated to address the unique concerns of the eye area, such as dark circles, puffiness, and fine lines. They are typically thicker and more emollient than serums, providing extra hydration and nourishment to the delicate skin around the eyes.
While serums can provide a variety of benefits for the skin, they may not be the best option for the delicate skin around the eyes. The skin around the eyes is thinner and more fragile than the skin on the rest of the skin protects the face, and it is more prone to dryness, fine lines, and other signs of aging.
Many eye creams also contain specialized ingredients such as caffeine, peptides, and retinol, which can help to reduce puffiness, improve skin texture, and minimize the appearance of fine lines and wrinkles.
Flawless Skin at Night Skincare Routine
During the night, your skin actually absorbs the nutrients in your products better than during the daytime, according to Parvaneh Rafaeloff, MD, medical doctor at Le Jolie Medi Spa. So not only is washing your face more important at night than in the morning, it's also the best time to apply product.
The Perfect 5 Step Skincare Routine for night:
Step 1: Remove Your Makeup
Sea Silk Cleansing Oil is an effective cleanser that easily removes makeup and impurities from your skin without causing dryness or irritation. This multi-action cleanser is enriched with natural ingredients such as algae, vitamin E, and Olive oil, which can help to soothe and nourish your skin while providing a thorough cleanse.
Step 2: Use a Gentle Cleanser
For a gentle cleanser that won't strip your skin of its natural oils, try Sea Therapy Facial Cleanser. A gentle cleanser rich in vitamins, minerals, and antioxidants, which purify and balance your skin leaving it soft and supple. Suitable for all your skin ages and types, including sensitive skin, and can be used morning and night.
Step 3: Sea Splash Toning Essence
This is not a typical toner. It brightens, shrinks pores, clarifies, hydrates, plumps, it is amazing and you will fall in love with how soft it makes your skin feel!
Step 4: Apply Hydrating Serum
Sea Therapy Hydration Treatment is a lightweight, hydrating serum that can boost collagen production, brighten and improve skin elasticity. It contains a blend of natural seaweeds, hyaluronic acid, and vitamins C and E, which protect your skin from environmental stressors and provide potent anti-aging benefits. Apply a small amount to your face and neck after cleansing for best results.
Step 5: Moisturize & Protect
Deep Sea Moisturizer is a luxurious seaweed cream packed with collagen to reduce the appearance of fine lines and wrinkles. Enriched with vitamin E, hydrolized wheat protein, CoQ10, and hyaluronic acid.
Intensive Restorative Night Cream
If you are ready for a night cream that might be as good as botox, meet Seaflora's Intensive Restorative Night Cream. Wake up to revitalized, glowing skin powered by red algae, hyaluronic acid and malic acid sourced from B.C. radishes and apples.
CoQ10, Vitamin C, Vitamin E, Fatty acids, Peptides, Micosporin Amino Acids, Carotenoids, Retinol, seaweed has everything! That's why it is the main ingredient in every Seaflora formulation. If you ever wondered why asians don't often show their age, seaweed is the answer.
The Difference Between a Day and Night Cream
Moisturizers serve different purposes during the day and at night. After 40, both should be incorporated into your daily skincare routine. Daytime moisturizers protect the skin from environmental damage with antioxidants that minimize pollution and UV protection. They typically have a light and compact consistency. In contrast, nighttime moisturizers focus on repairing the skin with substances like retinol that accelerate cell turnover, reduce dark spots, and provide rich and thick texture through emollients to increase moisture levels naturally falling into night. Choosing a moisturizer that's specifically formulated for your skin's needs can help maintain healthy, radiant skin around the clock.
Cleaning Dry Skin
Follow these tips to cleanse dry skin without causing further irritation or dryness:
Choose a gentle cleanser. Look for an alcohol-free, unscented, non-foaming cleanser that is free of harsh detergents and sulfates.
Avoid hot water as it can strip and cause further dryness and irritation. Instead, use lukewarm water to cleanse your skin.
Use a soft cloth or sponge to gently massage the cleanser over the face and neck.
Don't over-cleanse. Over-cleansing can strip and damage the skin's barrier and cause further dryness. Stick to cleansing once or twice a day, depending on your skin's needs.
After cleansing, be sure to apply a moisturizer to help hydrate and nourish.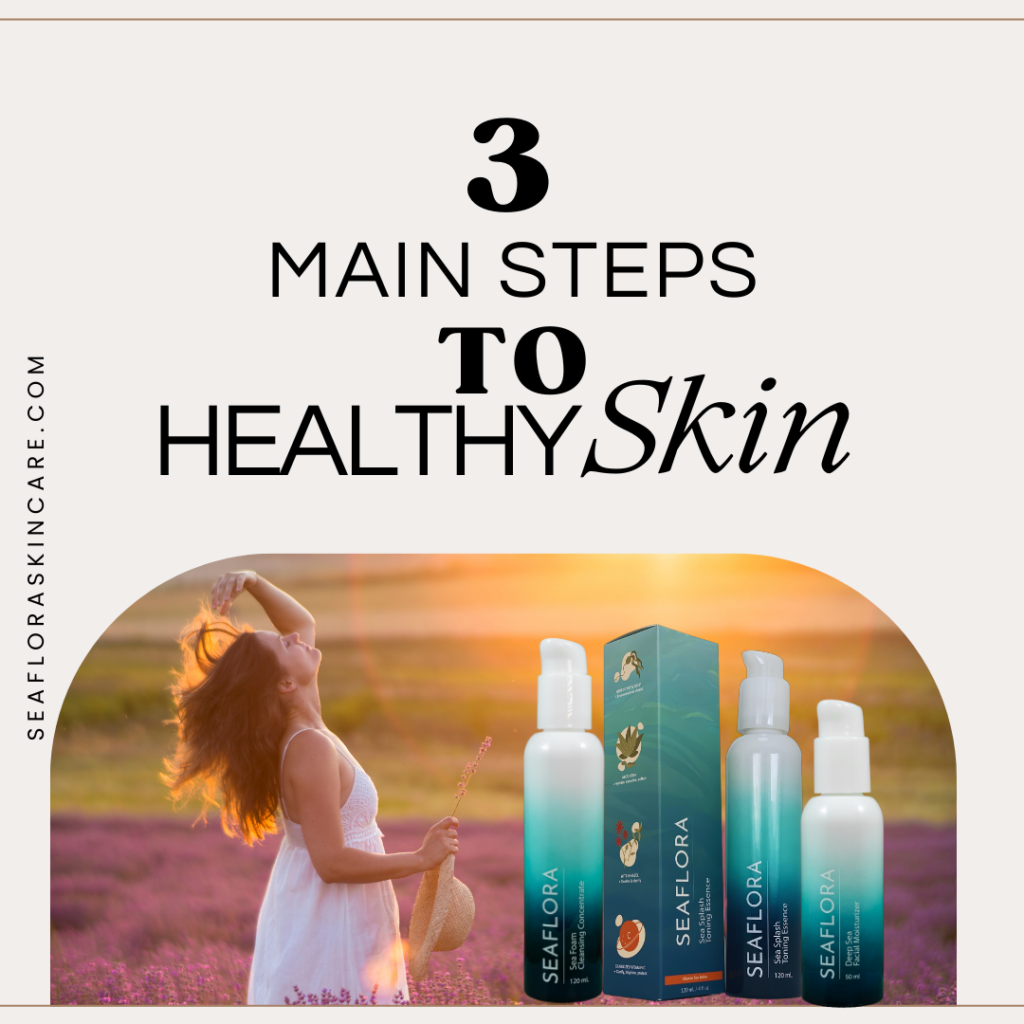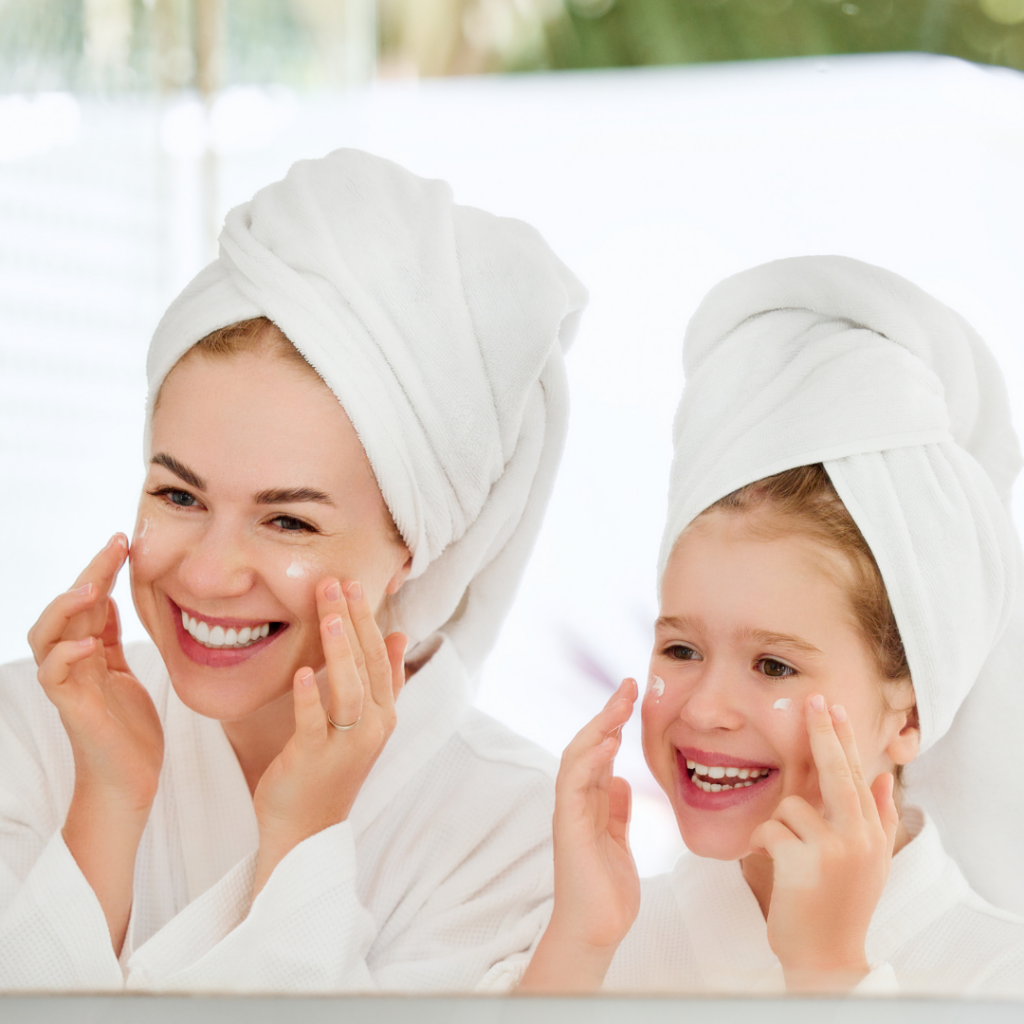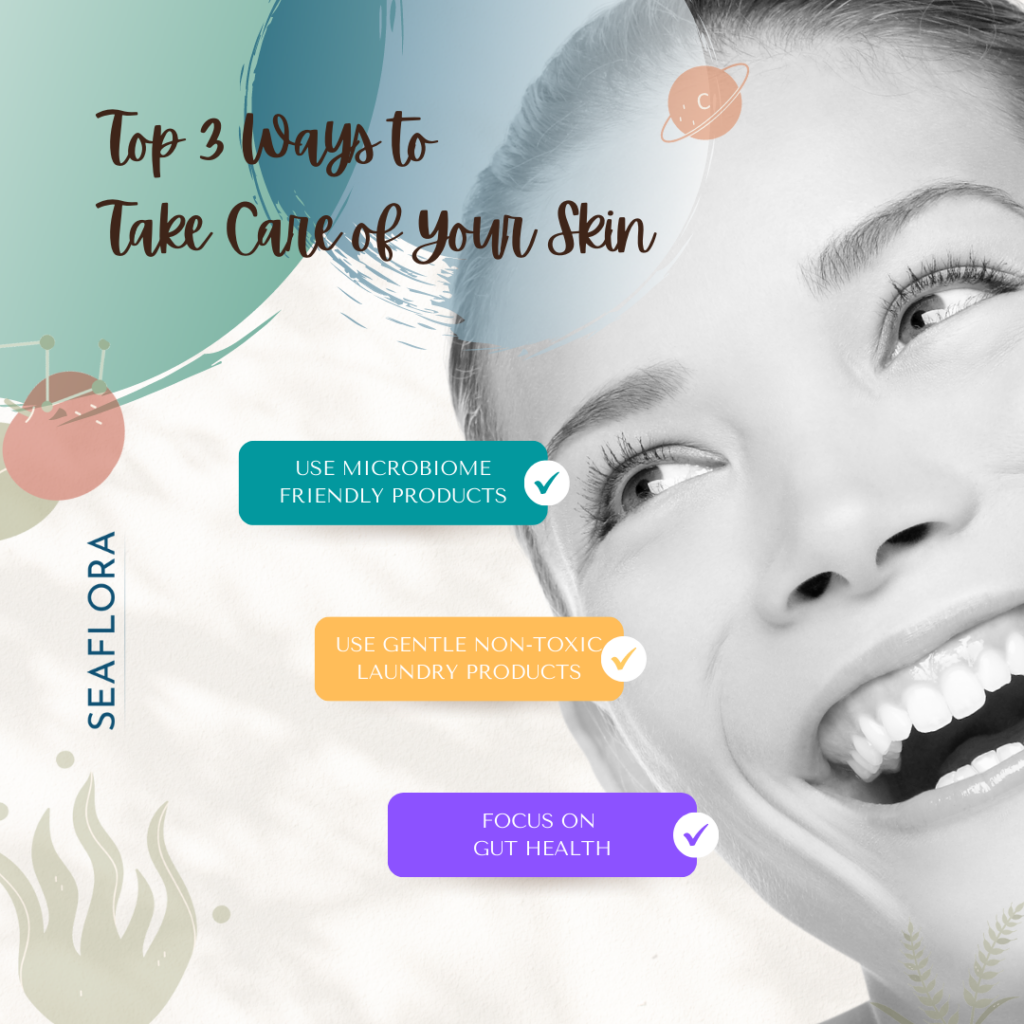 Are Face Masks Worth All the Hype?
Facial masks have become a popular addition to many skincare routines, and for good reason. Think of face masking as dermal gymnastics – it offers a genuine workout for your skin, helping to keep it fit and healthy.
A mask is designed to treat specific skin conditions, and contain ingredients that penetrate deep into the pores. Masques are a powerful tool for cleansing and detoxifying, because they increase blood flow, absorb oil, reduce excess oil and clarify clogged pores.
So why not add a mask to your routine and give your skin the workout it deserves? Whether you're looking to cleanse, hydrate, or rejuvenate your skin, a facial mask can offer genuine skin fitness and keep your complexion looking its best.
The Best Skin Care Routine for Body
Skin is your largest organ, and what everyone sees first when they look at you. In just a quick glance you can gain a lot of potential insight to a person's health. Drinking plenty of water helps to keep your skin hydrated and healthy. A diet rich in fruits, vegetables, lean protein, and healthy fats will provide the nutrients your skin needs and should be the first step your skin care routine!
Use broad spectrum protection to protect your skin from UV damage. Wear protective clothing, such as hats and long-sleeved shirts, when you're outside.
Wash your skin daily with a gentle, non-irritating cleanser. Avoid using hot water and harsh soaps, which can dry out your skin. Pat dry with a soft towel.
Exfoliating regularly removes dead cells and promotes cell turnover. Use gentle exfoliating scrubs or body brush once or twice a week.
Apply a moisturizer to your skin daily to help hydrate and nourish your skin. Choose a moisturizer that is specifically formulated for your skin type.
Take care of your hands and feet to keep them soft and smooth.
Three Main Steps to Facial Care
Think of a good skin care routine as three major tasks. Having a skin care routine is incredibly helpful in seeing changes on a daily basis. Your skincare needs change over time, and your skin care products should change over time as well. If the products you are using are working, or not working, will also alter your product needs.
Cleanse, Tone, Moisturize. Those are the 3 main steps to facial care. It honestly doesn't need to be more complicated than that for a daily routine, just make sure you are consistent day and night.
Polish Away Dead Skin Cells to Reduce Blemishes, Scars, and Hyperpigmentation
Blemishes and black spots usually require 4-6 months to heal and disappear. Immediate treatment includes the application of sex products and a rash-reducing cream to minimize fading. Another ingredient that helps reduce scarring is silicone: Studies indicate that the topical silicone may increase the thickness, colour and texture. You should apply silicone gel at least twice daily. Find a product that contains silicone dioxide. Honey: The study showed honey could cure wounds. Honey is sometimes used as home remedies.
Changing Your Mindset for Healthy Skin
Thinking of the human body as mostly bacteria can help you make better decisions about skincare products and how to take care of skin. The microbiome, which is the collection of microorganisms that live on and inside our bodies, plays a crucial role in maintaining healthy skin.
Many skincare products can disrupt the delicate balance of the skin's microbiome, leading to irritation, inflammation, and other issues. By understanding the importance of the microbiome and choosing products that support its health, individuals can help to maintain healthy, balanced skin.
Best Products for People with Skin Cancer
Choosing gentle, non-toxic products that don't strip the skin help to maintain the skin's protective barrier and support the beneficial microorganisms. Using micorbiome friendly and probiotic skincare products, will help to restore balance to the skin's microbiome, and be beneficial.
Can We Prevent Skin Cancer?
Preventing cancer requires a holistic approach to health and wellness. By incorporating these tips into your daily routine, you can support the health of your skin and reduce your risk of developing skin cancer.
It's All About Diet
Eating a diet rich in whole, nutrient-dense foods can help to support overall health and reduce inflammation, which can contribute to the development of skin cancer. Focus on incorporating plenty of fresh fruits and vegetables, lean proteins, and healthy fats into your diet.
The Body Needs Rest to Recover
Sleep plays a crucial role in overall health and wellness, including the health of your skin. Aim for 7-9 hours of sleep each night to help your body repair and regenerate.
Avoid Toxic Skincare Products
Most conventional skincare products contain toxic ingredients that can disrupt the skin's microbiome and contribute to inflammation and other issues. Avoid products that contain synthetic fragrances, parabens, phthalates, and other harmful chemicals.
Be Mindful of Household Products
Household products such as toxic static cling sheets can contain harmful chemicals that can be absorbed through the skin or inhaled. Choose natural, non-toxic alternatives whenever possible.
Fasting for Autophagy
Fasting has been shown to have numerous health benefits, including reducing inflammation and supporting cellular repair. Talk to a healthcare professional about incorporating intermittent fasting into your routine to improve stem cell production.
Manage Stress
Chronic stress can have a negative impact on overall health and wellness, including the health of your skin. Incorporate stress-reducing practices such as meditation, yoga, or deep breathing into your daily routine.
Decoding Sunscreen Formulas
When it comes to choosing a sunscreen, many people debate between physical and chemical sunscreens. Physical shields are the most effective at protecting against the harmful effects of UV radiation. Unlike chemical sunscreens, physical sunscreens create a physical barrier between your already sensitive skin, and the sun's rays. This barrier doesn't absorb into the skin, meaning that it's less likely to cause irritation or have other harmful effects. By learning about ingredients in your sunscreen, you can avoid toxic chemicals and choose a product that's safe and effective.
Should I Invest in Beauty Tools or Skincare Gadgets?
Your face is the only place where the muscles are not attached to our bones, which means the lymphatic system and facial muscles need to be manually manipulated. Beyond having a great skin care routine, at-home tools provide extra benefit for manipulating the muscles in the face. This is something to try.
References:
American Academy of Dermatology – https://www.aad.org/public/everyday-care/skin-care-basics
Mayo Clinic – https://www.mayoclinic.org/healthy-lifestyle/adult-health/in-depth/skin-care/art-20048237
National Institute of Arthritis and Musculoskeletal and Skin Diseases – https://www.niams.nih.gov/health-topics/skin-care