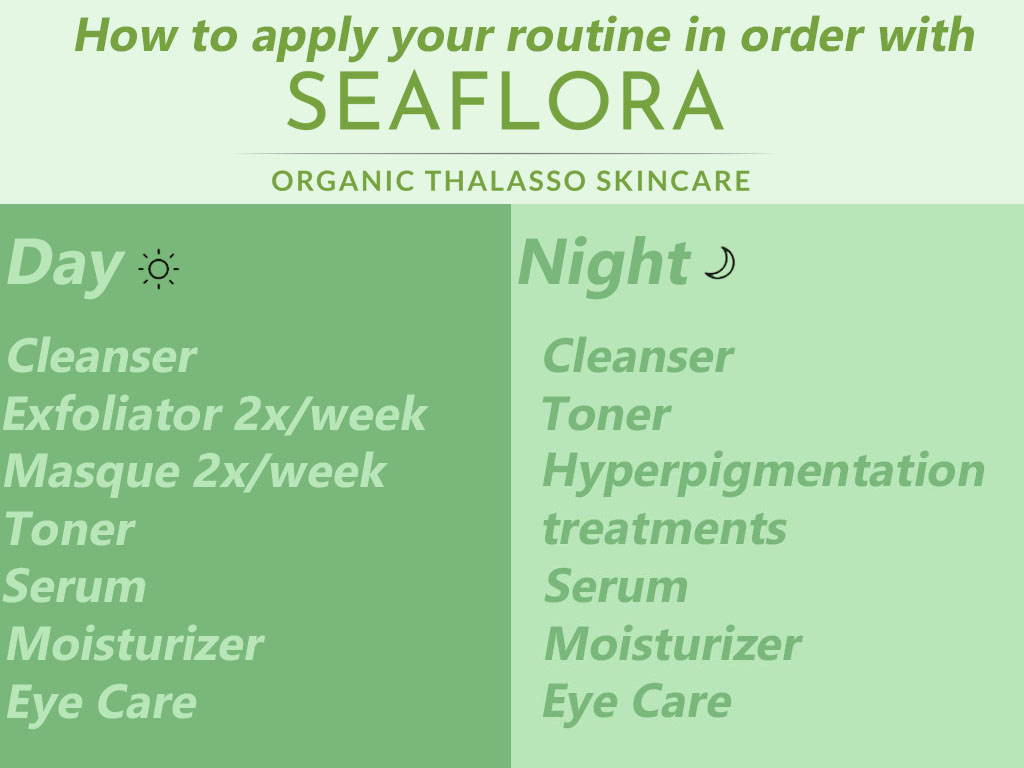 How to Properly Layer Skin Care Products
Using skincare products in order is essential for optimal skin vitality! If applied in the wrong order, they may not penetrate as well or they will simply be less effective, and unable to deliver the results you were looking for. Here are Seaflora's guidelines on how to properly apply your products in the right order for maximum efficacy.
The 3 "Rules" of Application
Thinnest to Thickest Texture: Start your Seaflora routine from lightest to heaviest products. After cleansing, apply the toner first, to prep the skin for the next layer. Layer serums first, then apply your heavier creams like moisturizers and sun protection.
Water-Based before Oil-Based: Apply water based products which hydrate, before your oil-based ones which seal in the hydration. Hyaluronic acid treatments should be applied after hydrating and before moisturizer.
Lowest to Highest pH: It is important to know the approximate pH of your products while using active ingredients. Acidic products (pH 3.0 to 4.0) should always be applied before more neutral ones (pH 5.0 to 7.0).
Where to Start in Any Facial Routine
The first step in your Seaflora routine should always be cleansing. This should be preformed 2 times a day, once in the morning and once at night. Cleansing the skin helps remove any harmful environmental factors built up on your skin during the day, helps regulate sebaceous oil, and gently sloughs off dirt and dead skin cells. Your cleanser should not strip the skin or leave it tight, a good cleanser is gentle and leaves the skin supple.
Exfoliating, this step, should only be preformed 2-3 times a week. Preforming this step every day can cause excess oil production to occur, doing exactly the opposite of what you're looking for. Exfoliating helps unclog pores, prevent acne, even the skin tone, boost circulation and promote lymphatic drainage. It's also an excellent way to help other products penetrate deeper into the dermal layers, enhancing the effectiveness of the products.
Masques should also only be used 2-3 times a week after exfoliating. Using a masque is like giving your skin a good work out. We call it skin fitness! Depending on your targeted skin concern, you may choose a masque that boasts Vitamin C and antioxidants that help to brighten and even out the skin tone while strengthening the skin's elasticity. A masque with Kaolin Clay and botanical oils is essential for revitalizing the skins appearance and restoring irritated or inflamed skin. Masques are perfect for a little self-loving spa day to give your skin an extra boost of beneficial vitamins, minerals and essential nutrients. Can't seem to tame those fly-aways? Try our Seaflora headbands to keep them out of your masque!
Your second step on most days should be your fourth step on days you mask and exfoliate, Tone. You should apply toner after cleansing or after exfoliating/masking is preformed (2-3 times a week). Toner helps to shrink pores, perfectly balance the skin's pH, clarify the skin and even out skin tone.
Ok, maybe all toners are not capable of all that, but Sea Splash Toner certainly is capable of all that and more! Our toning essence is excellent when used as an aftershave, can even prevent ingrown hairs which harbor acne-causing bacteria. Seaflora's toner opens up the skin barrier and prepares the skin for maximum absorption of the next products. Sea Splash Toner contains alginate, a compound found in all seaweeds that builds the delivery system through the dermal layers. This means, all the goodness found in each Seaflora formulation can get further into your skin delivering its superfood magic!
The next step to your routine is a to correct or target skin concerns with a serum, which should be applied as directed after your toner. It's important to preform this step before moisturizing as a serum will penetrate deep into the skin, releasing its potent concentration of vitamins, minerals and other essential nutrients and key ingredients more effectively under your moisturizer.
Moisturizing should come after a serum or a toner and should be done every day morning and night. Using the right moisturizer for your skin type is essential to developing your perfect routine, and keep in mind the products you use may change with the seasons to keep up with your skin's needs.
Seaflora's website offers different ways to shop for your convenience! You can sort by your skin type, skin concern, series or product type. Although, if you're unsure, you can take our skin quiz and we'll suggest some of our products that best suit your skin type. Moisturizing reduces the chance of skin problems, and the appearance of blemishes. It also reduces and fights the signs of aging and keeps the skin soft and moisturized throughout the day.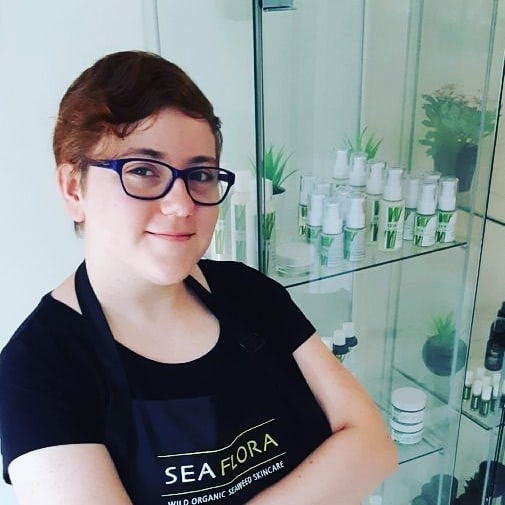 Eye care should be one of your last steps in your routine. Some people like it before moisturizer, some like to apply it after. Because moisturizer and eye care aren't layered, it doesn't matter which step you do first. Incorporating face yoga, acupressure and facial massage is also highly recommended to aid in graceful aging.
Applying your eye products with our Zinc Ion applicator can be beneficial for puffy under eyes and people looking for a relaxing eye massage. Eye care is essential to addressing the dark circles, fine lines and puffiness caused by squinting and sun exposure. If you're looking for extra self care, try our 100% pure Seaweed Eye Masques. Rehydrate these masques and place them under the eyes by themselves, or after applying one of Seaflora's eye treatments. Using the applicator, massage the seaweed over the eye area and let rest for 10 minutes. These wild, organic seaweed eye treatments can be reused 2-3 times, then put directly into the garden or kitchen compost to add their beneficial superfood compounds to your soil!