March 12, 2019
A Healthy Way to Reduce Melanin: Seabright™ Moisturizer – for hyperpigmentation
Reduce melanin naturally with Seaflora's scientific discovery in unique kelp bioactives, that treat and prevent hyperpigmentation.
Seaflora's new skin brightening formula is the result of 4 years of development working with the National Research Council of Canada. Seabright™ Moisturizer has a potent combination of unique kelp bioactives. The result effectively suppresses the enzyme responsible for hyperpigmentation. These potent marine bioactives create the most powerful skin brightening solution to date!
Skin colouration is largely due to the presence of melanin pigment. Production of melanin is largely controlled by the tyrosinase enzyme. Skin brightening agents work by inhibiting this enzyme.
Scientific testing conducted for Seaflora Skincare by NRC
(National Research Council of Canada) Natural Health Products Laboratory.

Kojic Acid and Arbutin are known brightening agents. They were used to compare to Seaflora's seaweeds and Organic Seaweed Elixir.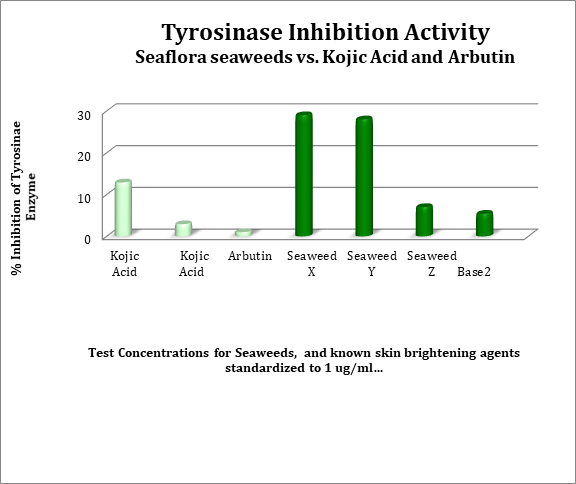 Results:
Seaflora's seaweed ingredients show strong tyrosinase inhibition compared to Kojic Acid and Arbutin controls
Seaflora's seaweed ingredients show higher inhibitory effect at lower concentrations compared to Kojic Acid and Arbutin
Kojic Acid and Arbutin need higher concentrations to be effective
The Seabright Kelp Complex™ scientifically shows to be faster and more effective at reducing melanin. It inhibits the key enzyme tyrosinase at lower concentrations than arbutin and kojic acid. It works in two ways – directly inhibiting tyrosinase and toning down melanocyte activity.
Seaflora has strategically combined the unique skin brightening capability of our bioactive kelp complex with effective natural brightening ingredients to work on the different cellular mechanisms that cause hyperpigmentation.
Seaflora uses a niosomal preparation of oxyresveratrol. This is a natural active molecule, which enhances its skin penetration to act on the melanocytes where melanin is produced.
Oxyresveratrol ehibits greater inhibitory effect on the tyrosinase enzyme than ordinary Resveratrol, Kojic Acid and Arbutin.
On the right are test results from Naturalis Life Technologies.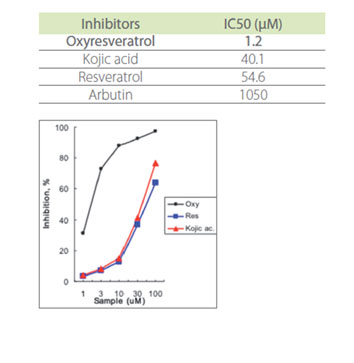 For effective skin brightening action, SEABRIGHT™ incorporates unique seaweed ingredients. Other proven and natural agents that act on several biochemical mechanisms to reduce melanin production are also included in this unique formula.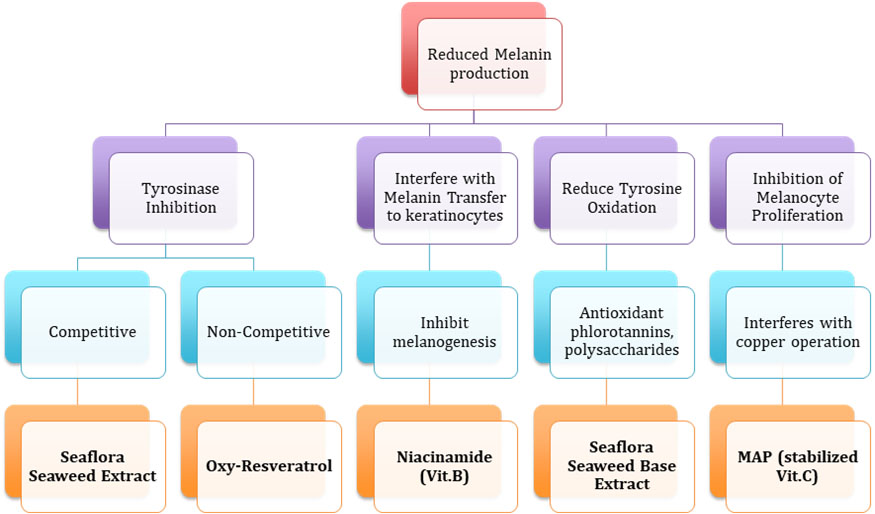 Seabright™ Moisturizer in vivo study carried out on 16 volunteers for 4 weeks of treatments we recorded with the NRC:
71 % Reduction in Melanin
28 % Reduction in Dark Spots
25 % Reduction in Yellow Pigment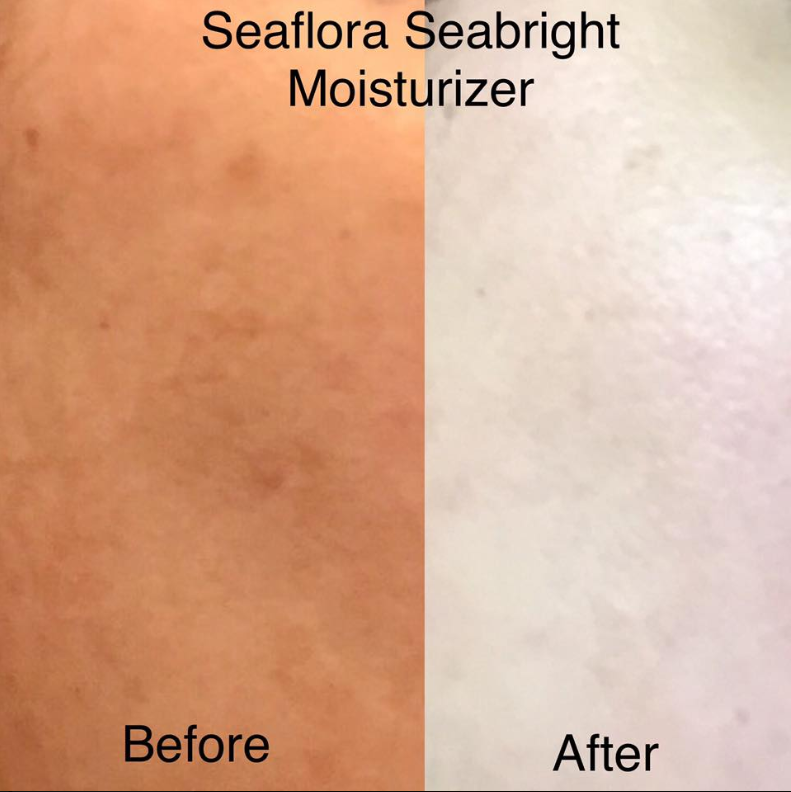 The Beauty Chair Inc. posted this picture on their social channels, January 18th 2019. This is their client's result after 30 days of twice daily application. Reduce melanin by 71% in 30 days!
Local Sooke client Testimonial:
"Oh my God, my skin is so bright! All of my dark spots are gone and there's no trace of ever having sun spots! I can't believe how good Seabright™ worked in less than 8 weeks! I can't believe it's made from Seaweed and it's healthy!!! It's the best Lightening Cream I've ever tried, and so affordable. Love love love Seabright™!" – Brett McLean, Sooke B.C.