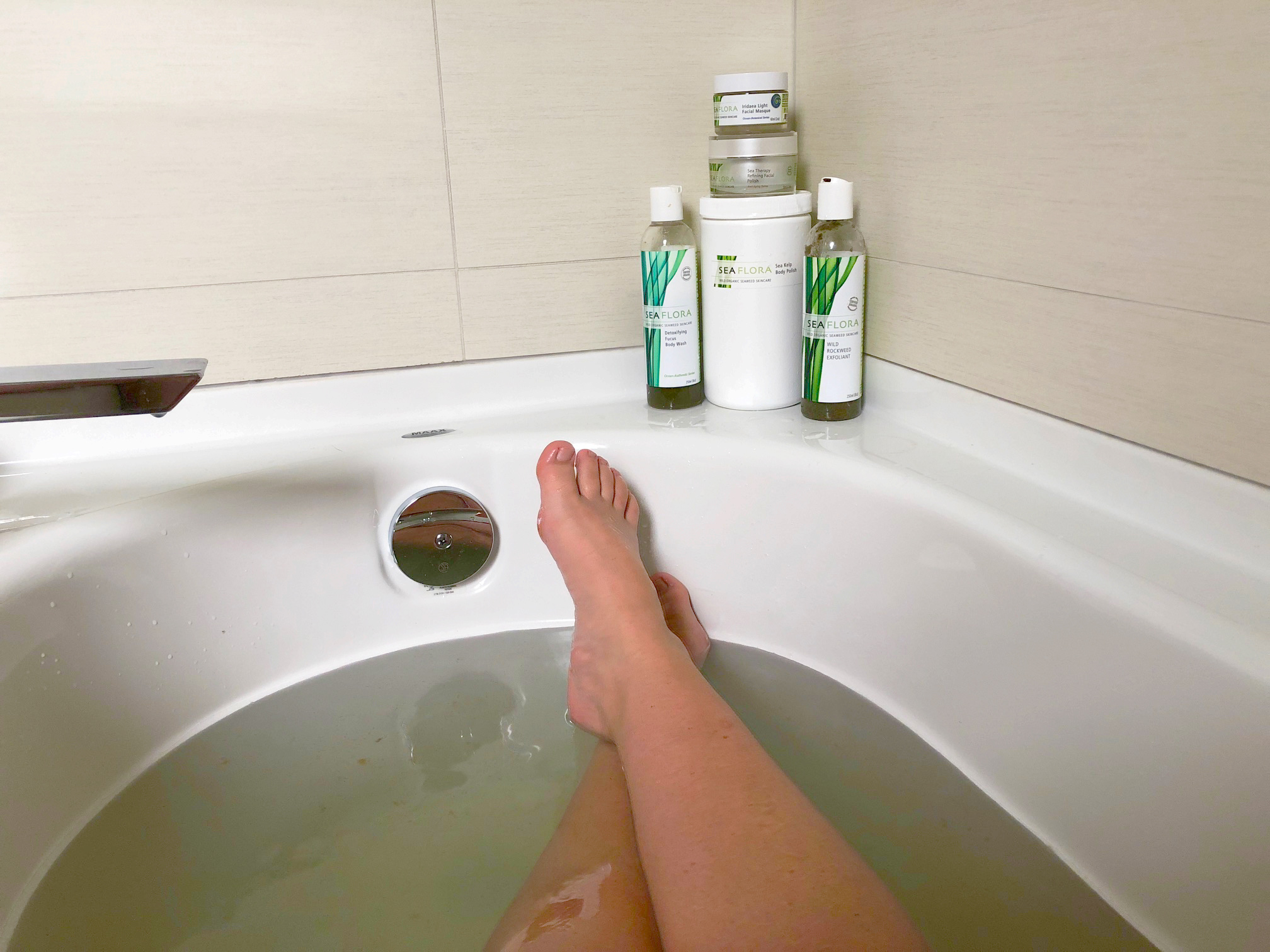 December 11, 2018
Beyond the Skin Care Routine Winter Pampering Ideas
When the corn husks thicken and the woodpeckers start sharing the trees, you know it's time to keep an eye out for the Snowy Owl. Like bears, many humans tend to hibernate in the winter, or at least spend more time indoors. It's time to treat yourself this winter with seaweed!
Treat yourself this winter!
That's right about the time to transition from quick morning showers, to long hot soaks in the evening! There's nothing better than a soothing soak based on thalassotherapy to heat your body up and relax before bed.
Turn your bath into a sanctuary, and upgrade your evening routine, with easy ingredient switch ups. Add just a few drops of essential oils, herbs from the kitchen or some beautiful dried seaweeds. An average bath becomes a fabulous spa treatment custom made to the needs of your body and mind.  
Why not make your own?
I make my own seaweed bath concoctions, with wild, raw, fresh, Salish Sea Seaweeds in the summer. Collecting Bull Kelp, Alaria, and Iridaea, at low tide to put right into my bath! Afterwards, dry them on the porch rail to later throw into your garden, as they make excellent natural fertilizers.
In the winter, the seaweed changes and pulls away from the surface making it more difficult to acquire. They are also mostly undesirable as their fronds often die back in winter.
Luckily I have found Seaflora's Soothing Sea Kelp Soak, and other products easily available to me. I often use a jar of Seaflora's Potent Sea Kelp Facial Masque, so I get real pieces of seaweed mixed with Kaolin Clay and add a few squirts of their Balancing Sea Kelp Concentrate for aroma and oils. This concoction brightens, hydrates, and restores elasticity to the skin as the Kaolin Clay draws out impurities, and reduces winter rosacea.
"IN MY EXPERIENCE, some of the best beauty tricks are the simplest. Take swimming in the ocean. I've found it to be an unparalleled skin supercharger, clearing-up red bumps, dry patches and other topical ailments like no other potion or lotion can. I can confidently say organic Sea Kelp baths work topical magic. They moisturized and evened my skin, and gave me an all over glow I thought was only possible after a trip to the beach." – quote from Alexa Brazilian, Journalist of The Wall Street Journal
Revitalize your skin
This winter, you can still get the skin-saving effects of the ocean with a seaweed bath. The beauty boosts associated with the ancient practice of thalassotherapy is known to many spa owners and practitioners. If you are using a dehydrated seaweed, place it in your bath! The hot water draws out a concentrated brew of vitamins and minerals, like iodine, calcium, zinc, copper and vitamin C. Seaweeds are also rich in phytonutrients, chlorophyll and antioxidants. They have more vitamins and minerals than any land plant! This offers a potent dose of skin firming, full chain amino acids.
Why take the time?
Bathing has been found to exert a positive influence on your oxygen intake and lung capacity. This is because the combination of warm water and water pressure makes your heart beat faster, thereby increasing oxygen uptake. The steam from a hot bath will also help to clear your chest and sinuses. Adding a little eucalyptus or menthol can help clear out even the most congested of nasal passages. If you are experiencing a winter cold or flu this can be a helpful home remedy for you.
Another amazing product I have used in my bath is the Sea Kelp Body Polish. It has hand-harvested organic red, brown, and green seaweeds mixed with large sea salt granules. A little trick? Stand in the bath and scrub your body from head to toe. Lay down in the hot water and relax with Seaweed Eye Chamois and a Facial Masque on. Within a few minutes, the seaweed fibres become very gelatinous and your skin is being pampered! All body acne disappears, healthy cell turnover is encouraged, and my skin is left feeling smooth and toned.
The oceans healing powers are the real deal
"Much of what we attribute to the ocean's healing powers—on inflamed skin, eczema, psoriasis, and even acne or open wounds—is due to the potent combination of salt and minerals that are released by seaweed," said Julie K. Karen, a dermatologist practicing in Manhattan. "By bathing in seaweed and salt you are not quite matching but you are mimicking the benefits of seawater."
As you dry off your relaxed body, it won't go unnoticed just how silky smooth your skin feels. Twinkling lights, the snow falling outside, even the excitement of Santa coming wouldn't be enough to keep you awake!